MSIG Indonesia Launched MSIG FlexPro U-Drive, Motor Vehicle Insurance with Advanced & Comprehensive Telematics Services
As a Business Optimization Solution for Business Owners during Pandemic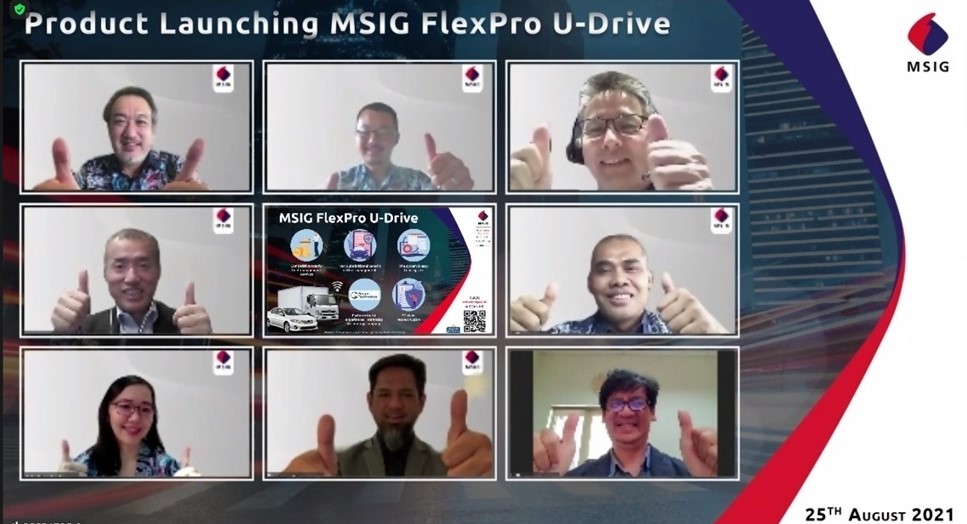 Jakarta - August 25, 2021. PT Asuransi MSIG Indonesia (MSIG Indonesia) just launched MSIG FlexPro U-Drive, a motor vehicle insurance for companies that own a fleet, equipped with advanced technology telematics services at competitive service prices. MSIG FlexPro U-Drive is the first motor vehicle insurance with telematics service that has been officially registered to Otoritas Jasa Keuangan.on 2 September 2020. As a leading general insurance, who has been operating in Indonesia for 45 years, MSIG Indonesia ensure that the bundling of motor vehicle insurance and telematics services provide by MSIG FlexPro U-Drive will be beneficial for business owners with fleet in developing more optimal and efficient business..
Vehicle telematics services have been commonly used by fleet businesses, however MSIG Indonesia are strongly confident that its telematics services which bundling with vehicle insurance in MSIG FlexPro U-Drive Insurance is able to provide a number of competitive advantages compared to other telematics services. These advantages include vehicle fleet management services at competitive service prices, various additional benefits in the fleet management system available through the MZone system, technology systems that are easy to integrate provided by its experienced technology partner, Scope Technology.
Scope Technology is an end-to-end solution development company for connected-car and telematics services with a strong global presence and solution deployments. The company has patented a vehicle telematics ecosystem that has been tested and adopted by leading OEM, fleet and insurance companies worldwide. Leveraging its 20 years' experience, today Scope is leading the market with advance UBI (usage based insurance) and customer engagement platforms.
MSIG FlexPro U-Drive fleet management system is leveraging Scope's Mzone platform. Based on a web and mobile application, MZone can be easily accessed through customer's device. This system functioning as a digital platform which becomes the center of access for all aggregated data. Several benefits that business owners will get from this management system, including:
Trip management, including route and destination determination (

Trip Management and Plotting

feature)

Comprehensive analysis report (Standard MZone Report feature)
Vehicle maintenance service information (Service Maintenance feature)
Risk analysis and driving assessment results (Driver Management feature)
Telematics service notification (Notification feature)
In general, vehicle telematics technology provides various useful features for companies that own fleet vehicle, such as monitoring fleet usage, monitoring driver behavior, controlling vehicle usage (fuel and maintenance), securing assets through live tracking. In addition to all these features, with MSIG FlexPro U-Drive Insurance, fleet owners will also get a 3D claim reconstruction feature, which is useful for accident reconstruction reports and their analysis. All of these telematics features will automatically be obtained by companies, when they entrust their fleet business to us. Furthermore, an immobilizer function also can be equipped by paying additional cost.
The global action plan agreed by world leaders, including Indonesia, to end poverty, reduce inequality and protect the environment is contained in the 17 Goals and 169 Targets of the United Nation's Sustainable Development Goals, encouraging industry players to contribute to it. This is because macro, socio-economic and environmental conditions in the world will have a significant impact on business growth in each country. The application of telematics technology to the fleet vehicle can be one of the tangible efforts to realize a green industry which is the target of the United Nation's Sustainable Development Goals. Telematics technology that enables maximum fuel efficiency supports action to prevent the climate change crisis and its impact on the Earth. Changing driver behavior is one of the best ways to realize safer and more efficient transportation, as well as have a positive impact on the environment. These efforts specifically accommodate The 13th Goal in the United Nation's Sustainable Development Goals, "Take Urgent Action to Combat Climate Change and Its Impact".
Back