MSIG Indonesia Supports Elementary School Children's Education in Paliyan, Yogyakarta during Pandemic Situation
Education on the importance of biodiversity preservation to children, as well as supporting face-to-face learning preparation in a number of schools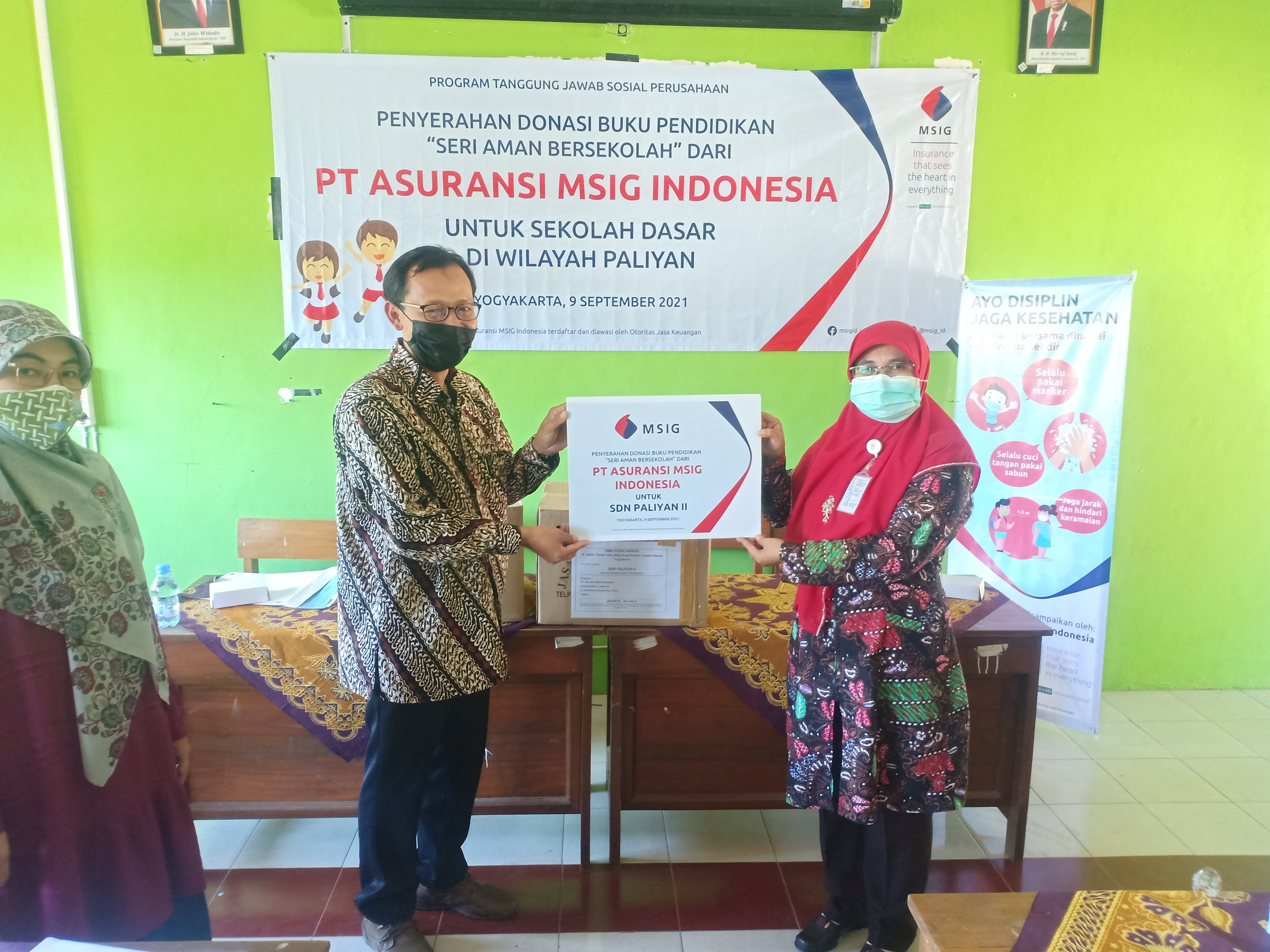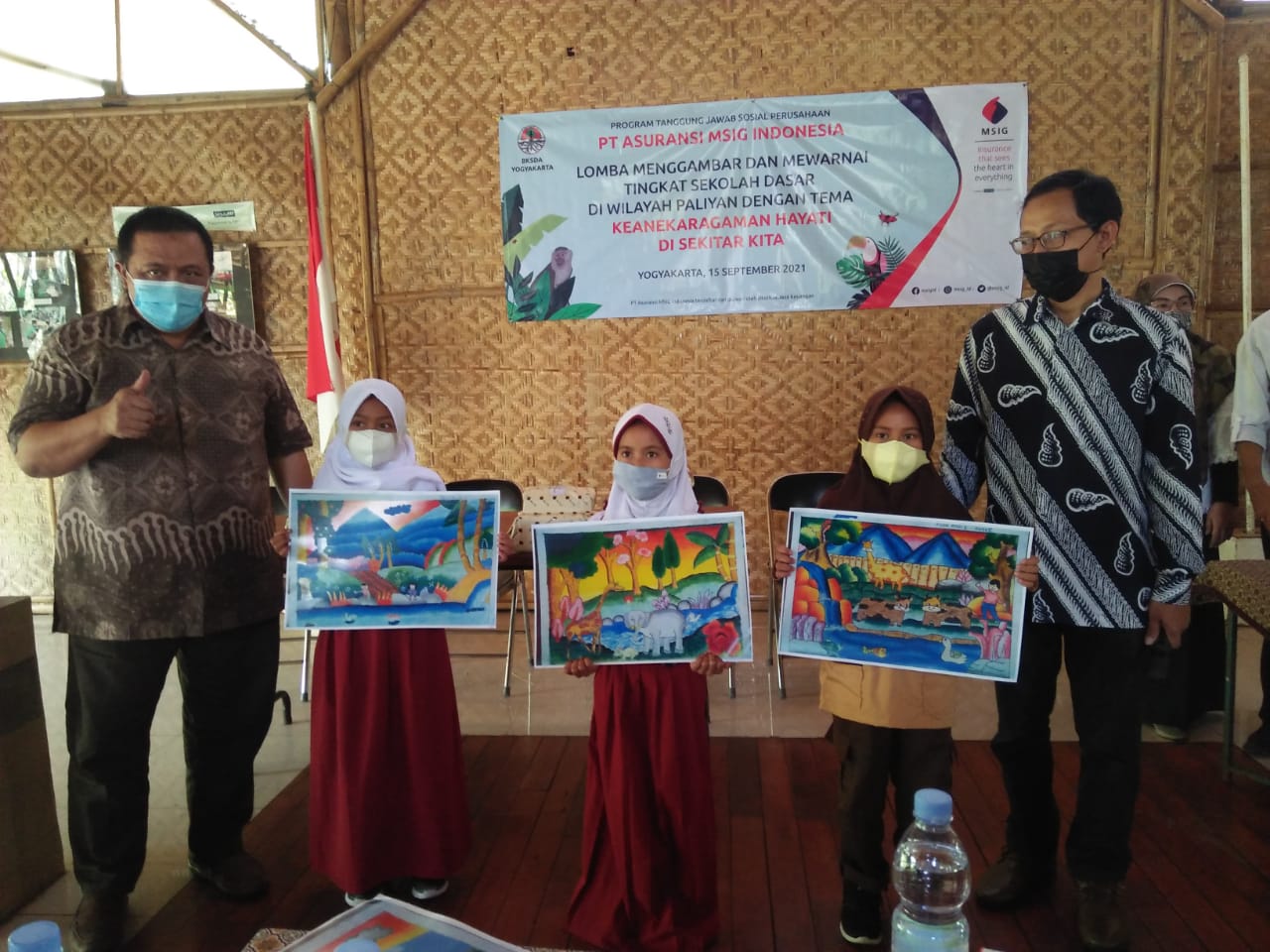 Jakarta, 17 September 2021 – MSIG Indonesia held a virtual ceremony to hand over donations in the form of 6.000 pcs or 1.500 educational book sets for COVID-19 health protocols for children to 12 schools in Paliyan, Yogyakarta, as preparation for the implementation of face-to-face schools in the region. In addition to the delivery of educational donations, this event is also the closing of a series of drawing competitions at the elementary school level which is the implementation of biodiversity conservation education held by MSIG Indonesia on the last of August 2021. Previously, MSIG Indonesia had submitted a total of 225 educational packages for biodiversity conservation which consisted of the encyclopedia of biodiversity conservation 'Our Earth' published by Bhuana Ilmu Popular-Gramedia, colored pencils, drawing books, educational stickers, folding paper and stationery, which is expected to be a source of education for students in the area to exercise creativity as well as build an understanding of the importance of preserving biodiversity in the surrounding environment from an early age.
Takashi Ogita, Director of MSIG Indonesia expressed his hope at the virtual ceremony held this morning, "This initiative is a real contribution of MSIG Indonesia to play a role in the prevention of COVID-19 and the development of education in the Paliyan area, Yogyakarta, which is in line with our mission to create a dynamic society and participate in safeguarding the future of the earth," he said. In addition, Takashi Ogita added that the COVID-19 pandemic that has lasted for the last 2 years has had a significant material and non-material impact, not only on adults but also on children. Therefore, MSIG Indonesia believes that the success of the Forest Recovery and Preservation Project in the Paliyan Wildlife Sanctuary is not only viewed in terms of the quantity of the environment that has been successfully restored but must also be in line with the restoration of the quality of the surrounding human resources, so that they are ready to face the challenges of post-COVID -19.
The 12 elementary schools that received educational donations and involved their students in drawing competitions include MI Yappi Banjaran, SD Muhammadiyah Karangduwet, SDN Paliyan I, SDN Paliyan II, SDN Paliyan IV, SDN Paliyan V, SDN Trowono I, SDN Karang Asem which are located in Paliyan sub-district and MI Yappi Karang, SDN Kepek I, SDN Kepek II and SDN Jetis I in Saptosari sub-district, Gunung Kidul, Yogyakarta.
The COVID-19 pandemic requires parents and education personnel to be able to find solutions for safe and constructive educational activities for children at home. However, the limitations of internet access and educational resources outside of school experienced by a large number of children from the underprivileged category in Indonesia are a major obstacle in the world of national education. According to the Ministry of Education and Culture (Kemendikbud), there are still 12,000 schools that do not have internet access in the outermost, underdeveloped, and frontier (3T) areas, as well as 48,000 schools with poor internet networks throughout the region.
Implementation of Elementary School Level Drawing Competition
This fact is a fundamental consideration for MSIG Indonesia to organize educational activities on biodiversity conservation which are not only educational but also stimulate the creativity of elementary school students. Creative activities such as drawing, painting, coloring, folding and sticking, and so on, become a powerful tool that can stimulate the development of a child's left brain as well as become a means of entertainment for children who cannot play outside during the pandemic. In addition, the biodiversity education books that we chose in this activity are expected to be an interesting source of knowledge for students, thus training students' interest in reading from an early age.
The enthusiasm of elementary school students in Paliyan for this activity was proven by the number of students who participated until the closing of the competition at the end of August 2021, which was 1,265 students or 89% of the number of elementary schools in Paliyan. The winners of this drawing competition each received a smartphone as a means of support for carrying out teaching and learning activities both at school and at home. The announcement of the winners and the awarding of prizes have been made by representatives of MSIG Indonesia in Paliyan, Yogyakarta to the principals of each student school who won the competition on September 15, 2021.
Donation of Health Protocol Manual for Face-to-face School Preparation
Face-to-face learning will be carried out simultaneously if there are no more areas in Indonesia that are still PPKM Level 4. Later, children under the age of 12 who have not received the Covid-19 vaccine will still be allowed to attend face-to-face schools with the implementation of strict health protocols. When face-to-face schooling is carried out, student safety is the responsibility of parents, teachers, and other parties who come into contact with children's face-to-face school activities. Therefore, an understanding of the appropriate and targeted COVID-19 prevention health protocol is very important, especially for children.
MSIG Indonesia understands the need for educational facilities in the form of an accurate COVID-19 prevention health protocol guide with appropriate exposure for elementary school children, so that they can easily understand and remember the protocols they must follow when meeting face to face at school. Therefore, after careful curation, we decided to provide support to primary schools in Paliyan a number of the COVID-19 protocol guidebook titled 'Seri Aman Bersekolah' developed by Nindia Maya, Watiek Ideo, Fitri Kurniawan and Luluk Nailufar. The team that developed this book are children book authors and credible educators who experience in developing children books.
This book was compiled based on independent research conducted by the authors as well as a number of other sources of information which are the result of research from national and international health institutions whose credibility can be justified, so that the accuracy of the information and the method of delivery are in accordance with the needs of children of primary school age in Indonesia.
Mitsui Sumitomo Co.,Ltd Contribution to Environmental Conservation and Community Development of Paliyan
Since 2005, Mitsui Sumitomo Co.,Ltd. in collaboration with the Regional Government of DI Yogyakarta and other parties to build a forest restoration and conservation project in the Paliyan Wildlife Sanctuary area, as a form of corporate social responsibility towards the environment.
To support the project, for 16 years MSIG Indonesia has consistently contributed to the education of elementary school children around the Paliyan Wildlife Sanctuary by donating to 12 elementary schools with around 1,500 students. Donations are given in the form of supporting equipment for teaching and learning activities and school extracurricular activities.
Back