MSIG Indonesia Wins Titanium Trophy & Special Awards at Infobank Insurance Awards 2021
Consistently Maintains 'Excellent' Performance for 15 Consecutive Years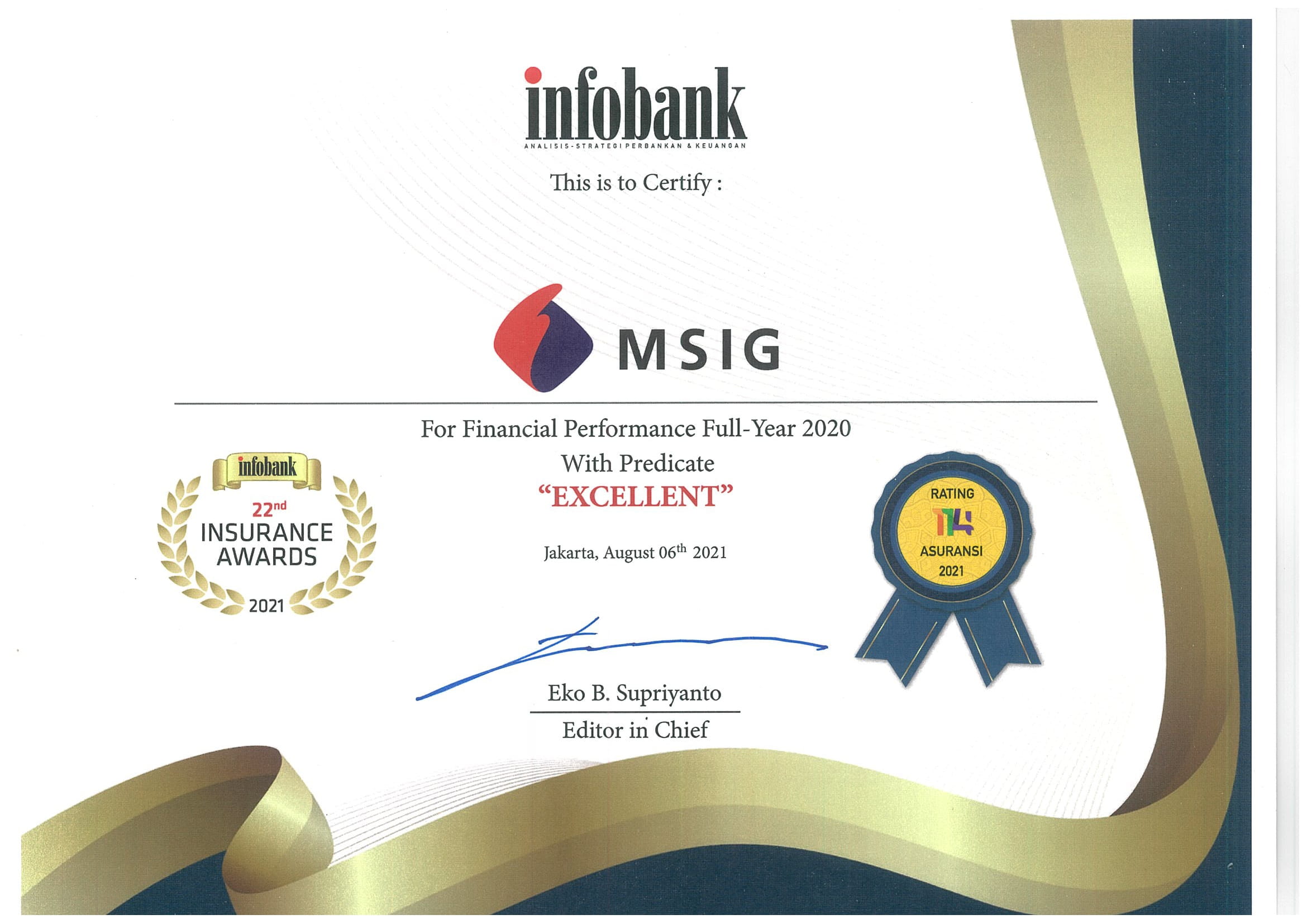 The COVID-19 pandemic throughout 2020 did not prevent MSIG Indonesia from maintaining the company's superior performance so that it was able to win the Titanium Trophy from the Infobank 22nd Insurance Awards 2021 in August 2021. Obtaining this Titanium Trophy is a sign of MSIG Indonesia's success in winning the title of 'Very Good' for 15 years. in a row (2006-2020). In addition to winning the Titanium Trophy, MSIG Indonesia also won the "The Most Safety Innovative Insurance Company 2021" award in this award event organized by Infobank Magazine.
MSIG Indonesia's success is supported and cannot be separated from the strong influence of its parent company, Mitsui Sumitomo Insurance, an established insurance company with strong financial ratings from leading rating agencies. Currently, MSIG is one of the few foreign general insurers that has representation in every ASEAN country.
Through strong business partnerships, the company led by Tsutomu Aoki as president director offers a variety of personal and commercial insurance solutions. MSIG Indonesia builds and maintains close long-term relationships with customers in all situations.
The Infobank Research Bureau (BIRL) gave MSIG Indonesia a total score of 89.42 on the General Insurance Company rating for the 2019-2020 period. MSIG Indonesia's total assets grew by 49.19% on an annual basis, from Rp3.47 trillion in 2019 to Rp5.18 trillion in 2020.
Meanwhile, premium income only decreased slightly, namely by 3.70% on an annual basis to Rp. 1.54 trillion in 2020 from Rp. 1.60 trillion in 2019. Meanwhile, total investment increased by 4.60% on an annual basis to Rp. 1.51 trillion in 2020.
Back