Motor
Claim Procedure
At the occurance of the incident, please notify us by phone at (021) 1 500 674 within 5 calendar days after loss/accident.
Step 2.
Collect information
Take photographs of the accident scene and damaged vehicles.
Exchange information and particulars of driver/owner, including name, contact number, copy of KTP, copy of STNK, copy of SIM, note down the vehicle registration number and vehicle details. But later on more documents maybe require if necessary.
Note down the name, address and contact number of any eye-witness(es).
Avoid all unauthorised tow-truck operators or repair works
File a police report in 24 hours under the following circumstances:
1. Theft case (Part or Vehicle)
2. Third party loss and injury case
Report your accident and bring your accident vehicle to our appointed workshop.
Filing a claim report can be done at the workshop, through our call center or our online claim service, MSIG [email protected], which can be accessed by clicking the icon below: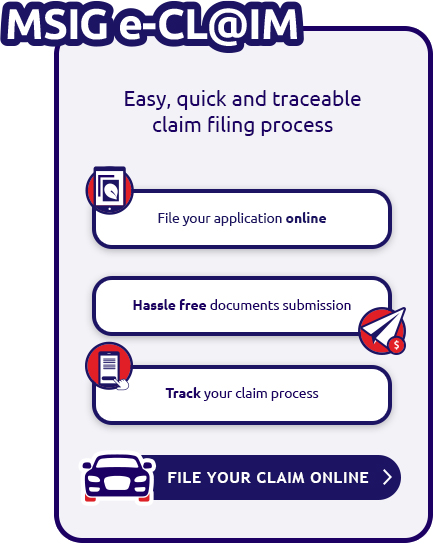 You and your driver/custodian are required to co-operate with the Adjuster/Investigator or any personnel who may be appointed by us to conduct the investigations.
Supporting documents for motor claim
You can help us to expedite your claim by providing the required documents promptly.

NO

Name of Documents

Partial Loss

TPL Property
Damage

TPL Body
Injury

TLO
(Heavy Damage)

TLO
(Theft)

1

Claim Note / Form duly completed and signed by the Insured in case of private claim. While for corporate, shall be completed by company chop.

 

 

 

 

 

2

Copy of Insurance Policy and copy of endorsement if any

 

 

 

 

 

3

Details of Chronology (in case not stated in Claim Form)

 

 

 

 

 

4

Photo of damage panel / part

 

 

Insured's Vehicle
Third Party's Vehicle and or Property

 

 

NA
5

Copy of Driving licence of the driver at the time of accident (SIM)

 

 

Insured's Driver
Third Party's Driver (if any)

 

 

 

6

Copy of Car Registration Certificate (STNK).

 

 

Insured's Vehicle
Third Party's Vehicle (if any)

 

 

(original STNK)

 

(original STNK)

7

Copy of Identity Card (KTP / KITAS)
>>In case of the claim form is not signed by person other than the Insured

 

 

 

 

 

8

Original Police Report

 

 

 

 

 

9

Photo of Vehicle Identification Number / Chassis Number / Engine Number

 

 

Insured's Vehicle
Third Party's Vehicle (if any)

 

 

NA
10

Repair cost estimation from workshop

 

(Reimbursement - repair at Unlisted workshop)

 

NA

 

(Reimbursement - repair at Unlisted workshop)

NA
11

Confirmation letter of relationship between the Insured and the person who making the report to the police

NA
NA
NA
NA

 

12

Letter of claim from the third party (TPL or Liability)

NA

 

 

NA
NA
13

Foto copy KTP Korban (Pihak Ketiga), Ahli Waris dan Kartu Keluarga

 

(Personal Accident Claim)

NA

 

 

(Personal Accident Claim)

NA
14

Medical Report from doctor or hospital

 

(Personal Accident Claim)

NA

 

 

(Personal Accident Claim)

NA
15

Copy of death certificate

 

(Personal Accident Claim)

NA

 

 

(Personal Accident Claim)

NA
16

Original Medical Receipt

 

(Personal Accident Claim)

NA

 

 

(Personal Accident Claim)

NA
17

Original receipt for repair to vehicle and or property

 

(Reimbursement - repair at Unlisted workshop)

 

(Reimbursement - repair at Unlisted workshop)

NA
NA
NA
18

BMKG Report (For Natural Disaster Claims)

 

NA
NA
NA
NA
19

Original subrogation letter duly signed by the Insured and stamped (for the company)

NA
NA
NA

 

 

20

2-sheet of blank receipt is signed and stamped
1 sheet affixed with a stamp duty.

NA
NA
NA

 

 

21

Motor Vehicle Purchasing Invoice (Faktur)

NA
NA
NA

 

 

22

Inspection Book (for commercial vehicle)

NA
NA
NA

 

 

23

Keys (original and duplicate)

NA
NA
NA

 

 

24

Original certificate of ownership

NA
NA
NA

 

 

25

Original Certificate of revocation of STNK (Blocking Letter).

NA
NA
NA
NA

 

26

Original Certificate from Regional Police (Polda)

NA
NA
NA
NA

 

27

Other relevant documents as required