MSIG Indonesia Distributed 3,150 Masks to Elementary Schools in Gunung Kidul, Yogyakarta As a Support for COVID-19 Prevention in School Communities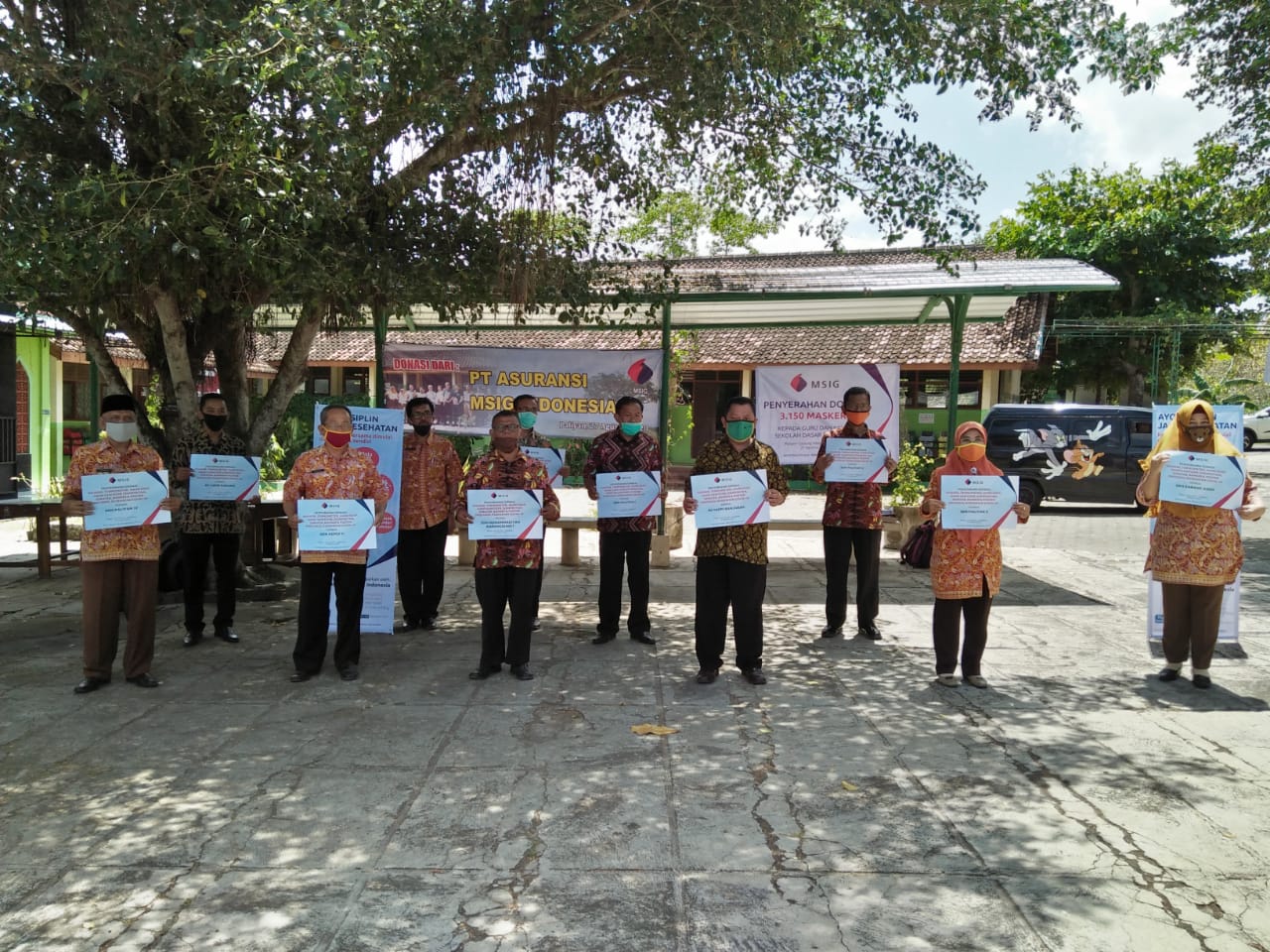 Handover of MSIG Indonesia' donations to 12 elementary schools representative in Paliyan, Yogyakarta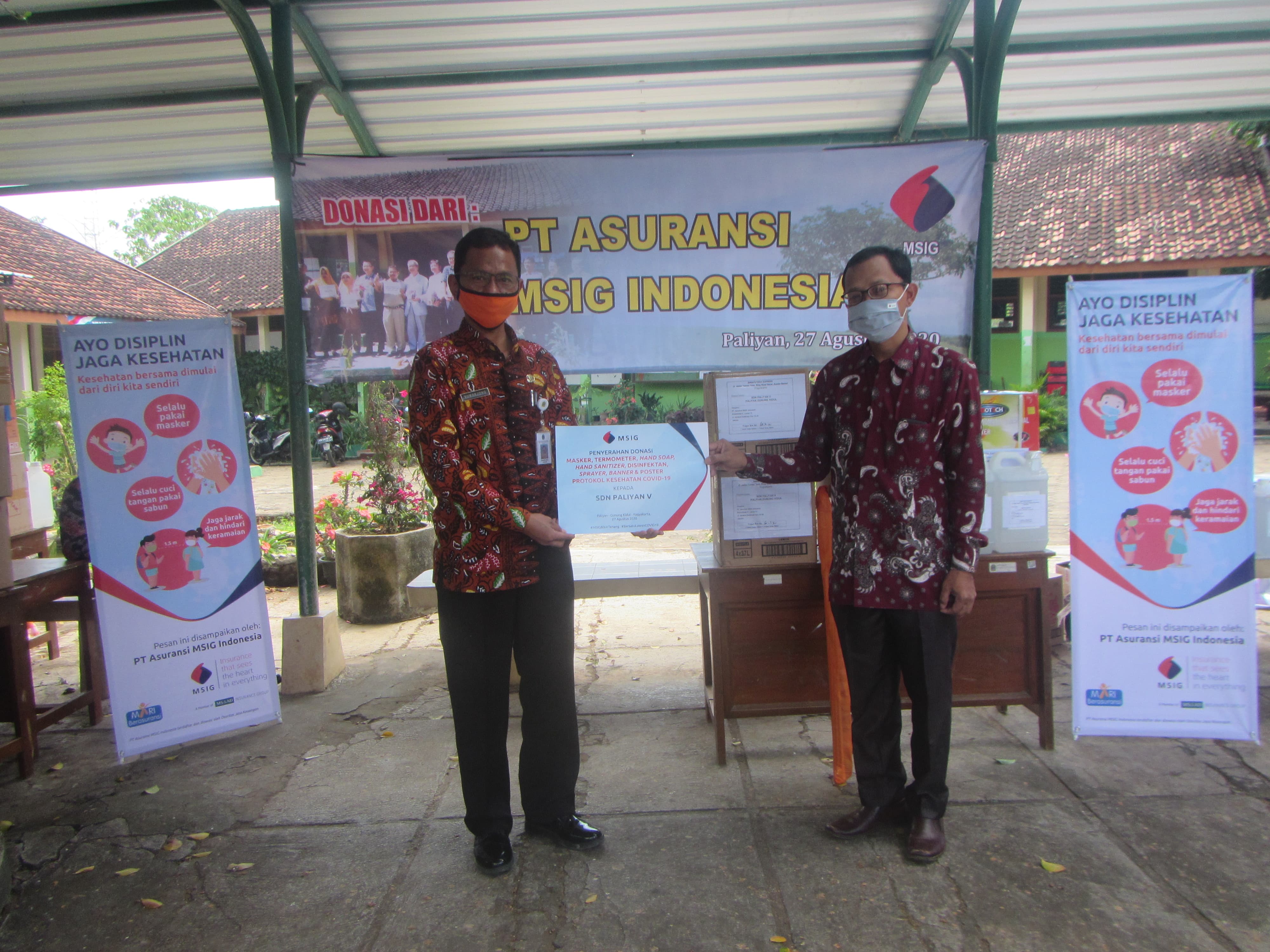 The donations are hand soap, hand sanitizer, mask, spray, disinfectant, gun thermometer, stickers, educational posters and banners
Jakarta, September 4, 2020 - MSIG Indonesia held a virtual donation ceremony for COVID-19 prevention equipment donation to 12 elementary schools in Paliyan, Gunung Kidul, Yogyakarta on September 2, 2020. Attended by MSIG Indonesia's top management and representatives from the 12 elementary schools, this ceremony marked the beginning of the distribution of COVID-19 prevention equipment donations such as 3,150 masks, hand soap, hand sanitizer, disinfectant, sprayer, thermometer gun, stickers, educational posters and the COVID-19 health protocol education banners. This is done as a concrete manifestation of MSIG Indonesia support for COVID-19 transmission prevention in Indonesia, especially in the elementary school community.
Bernard P. Wanandi, Deputy President Director of MSIG Indonesia stated, "We hope to contribute to the prevention of COVID-19 through this activity, and of course take part in Forest Restoration and Conservation Project in the Wildlife Reserve, Paliyan, especially in improving the quality of human resources, therefore they will be ready to face the challenges ahead. We consistently held these activities because it is a reflection of our corporate mission to contribute to the development of a dynamic society and participate in protecting the future of the earth."
As of September 3, 2020, COVID-19 cases in Gunung Kidul, Yogyakarta continue to increase, reaching 194 cases and 178 cases accumulatively recovered. Wearing a mask has proven to be the most effective way to prevent transmission of COVID-19, which is mainly spread through air transmission. Reporting from CNN, these conclusions were obtained from the results of research by researchers in Texas and California, United States that compared trends in the Covid-19 infection rate in Italy and New York, USA, before and after the mandatory use of face masks. The results of the study published in the Proceedings of the National Academy of Sciences stated that the two locations began to show even infection rates after the mandatory use of face masks was enforced (source: Kompas.com).
This fact is a consideration for us to donate COVID-19 prevention equipment to school communities in Gunung Kidul, Yogyakarta, respectively Paliyan and Saptosari districts. In particular there are 3,150 masks and other equipment which we have distributed, as an effort to reduce the number of COVID-19 infections in those areas.
The 12 primary schools that received donations of COVID-19 prevention equipment from MSIG Indonesia are including MI Yappi Banjaran, SDN Muhammadiyah Karangduwet, SDN Paliyan 1, SDN Paliyan II, SDN Paliyan IV, SDN Paliyan V, SDN Trowono I, SDN Karang Asem which are located in Paliyan sub-district as well as MI Yappi Karang, SDN Kepek I, SDN Kepek II and SDN Jetis in Saptosari sub-district, Gunung Kidul, Yogyakarta.
Since 2005, Mitsui Sumitomo Co., Ltd. has collaborated with the Regional Government of DI Yogyakarta and several other parties to develop forest restoration and preservation projects in the Paliyan Wildlife Reserve, as part of our corporate social responsibility activity towards the environment.
As a support of the Paliyan project, for 15 years MSIG Indonesia has consistently contributed to the education of elementary school children around Paliyan Wildlife Reserve through donations to 12 elementary schools with around 1,500 students. The donations we had given are teaching and learning supplement and school extracurricular activities equipment.
Through these supports, we want to convey our commitment to take part in the human resources quality development, to create a high quality and competent generation in the future.
About MSIG Indonesia
PT ASURANSI MSIG INDONESIA is part of the MS&AD Insurance Group, one of the largest joint-venture general insurance companies in Indonesia under MSIG Asia as a regional holding company. For more than 40 years of existence, MSIG Indonesia Insurance ensures that it will continue to grow from year to year. Currently MSIG Indonesia Insurance serves individual to corporate customers with a variety of general insurance solutions.
Media contact :
Bonaventura N. Ardi (Asuransi MSIG Indonesia)
Head of Corporate Planning & Research Development (CP&RD)
Telephone  : +62 21 – 252 3110 Ext.314
Mobile        : +62 821-1140-6655
Email          : [email protected]
Back