MSIG Indonesia Receives ISO 27001 Certification at its 45th Anniversary. Guaranteed Customer Data Security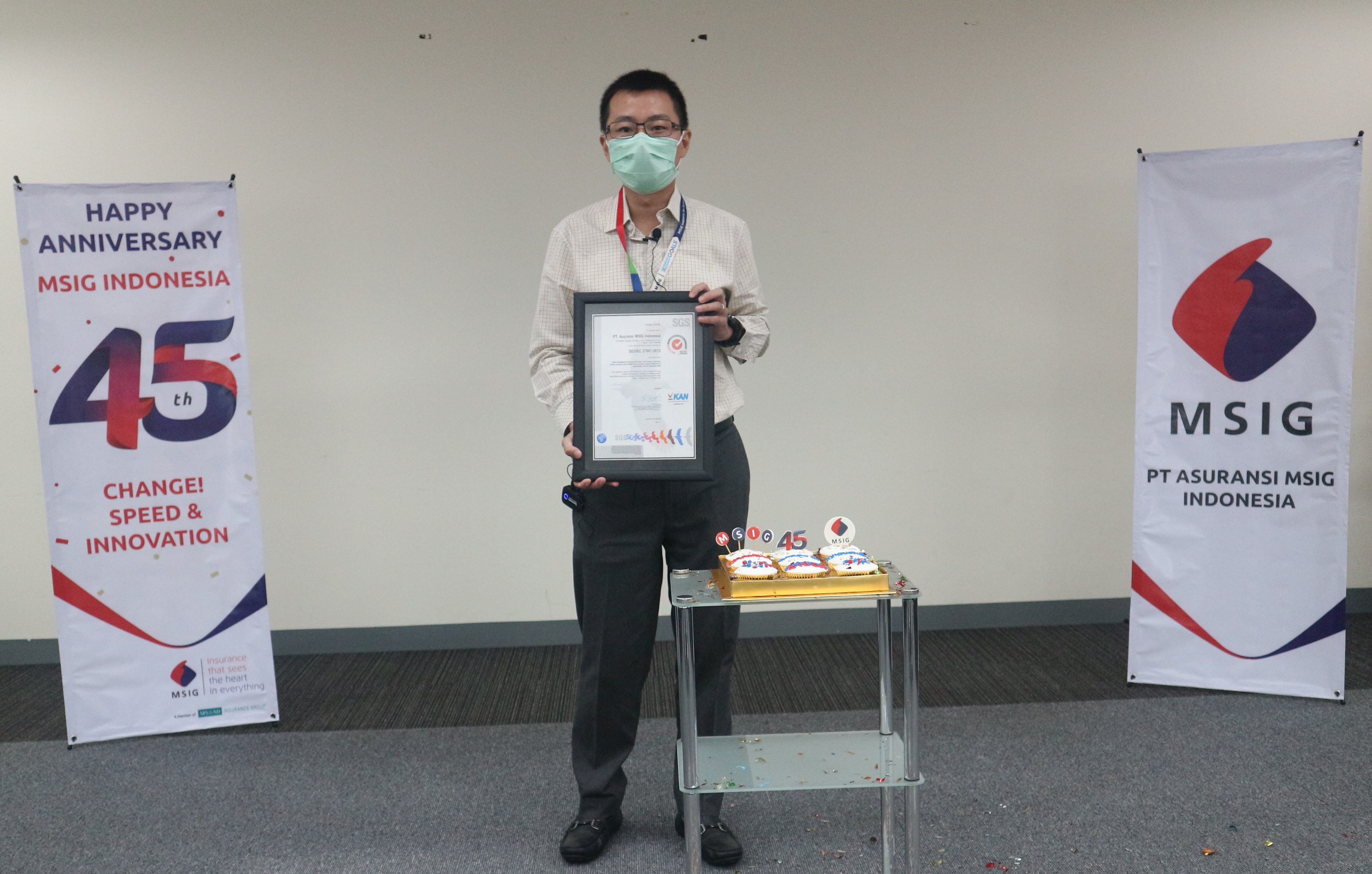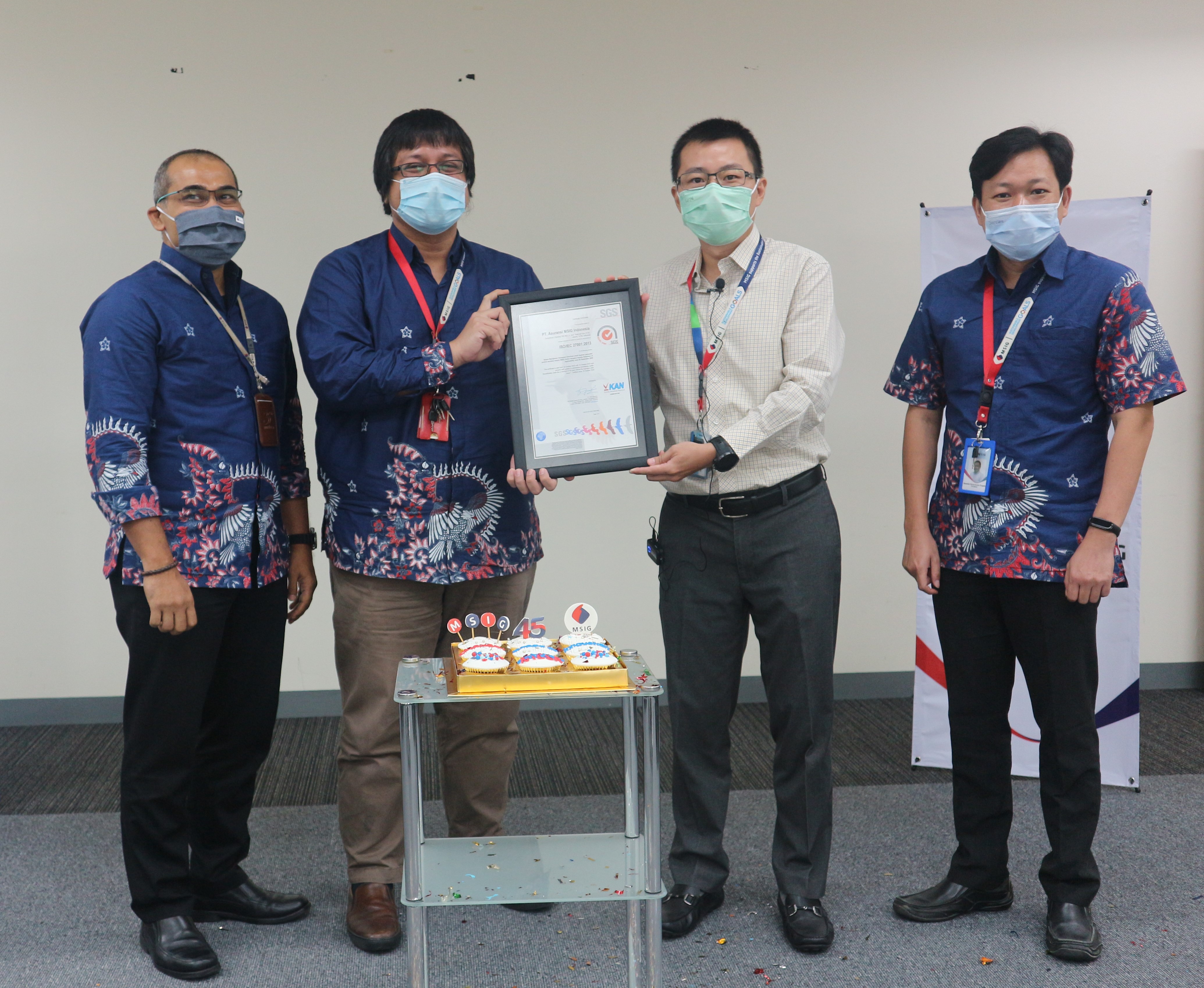 MSIG Indonesia's commitment to provide the best service to customers through data security assurance in online insurance transactions. 
Jakarta, 22 October 2020. In commemoration of its 45th anniversary, MSIG Indonesia announced its achievement in obtaining ISO 27001 certification. This announcement was made during the virtual commemoration of the company's 45th Anniversary which was held today at MSIG Indonesia office, Gedung Summitmas 2, South Jakarta.
ISO 27001: 2013 certification is an international standard assessment of the information security governance system and data protection that has been published by the International Organization for Standardization (ISO) in collaboration with the International Electrotechnical Commission (IEC). The process scope that has been certified is the protection of customer data for electronic or digital policy issuance on MSIG Indonesia's insurance products which are marketed online. Until now, MSIG Indonesia has marketed several personal insurance products online, such as vehicle insurance, travel insurance and personal accident insurance. 
As one of the general insurance providers who markets its products online, either through the official e-commerce platform, MSIG Online (www.msigonline.co.id) or through partners, ISO 2700: 2013 is a very important certification for MSIG Indonesia, as an effort to guarantee of customer safety and comfort in online transactions.
Bernard P. Wanandi, Vice President Director of MSIG Indonesia said that ISO 27001 certification is a tangible manifestation of MSIG Indonesia's commitment in providing security and comfort for customers, especially when they transact MSIG Indonesia insurance products online anywhere. "Customers are our main focus for 45 years in Indonesia, so it is very important to establish security standards in information system governance to be improved from time to time. This is based on company values ​​that we uphold, especially customer focus, which will help MSIG Indonesia build customer trust and loyalty, as well as maintain our company's position and excel in competition. "
In early January 2020, the number of internet users in Indonesia grew by around 17 percent or around 25 million people. Based on the total population of Indonesia, which amounts to 272.1 million, it means that around 64 percent or around 174.1 million Indonesians enjoy internet facilities (Hootsuite, We Are Social). The rapid development of internet users in Indonesia and the condition of the COVID-19 pandemic nationally and globally have caused people to increasingly depend on the internet, including a number of companies that have been forced to implement a work from home system, thus causing a greater possibility of data misuse.
In this regard, the Ministry of Communication and Information (Kemenkominfo) ensures that every company that carries out electronic transactions is required to register its electronic system. This obligation is conveyed in Peraturan Pemerintah No. 71/2019 concerning Implementation of Electronic Systems and Transactions (PP PSTE), Peraturan Otoritas Jasa Keuangan No. 1/POJK.07/2013 concerning Financial Service Consumer Protection and Surat Edaran Otoritas Jasa Keuangan No. 14/SEOJK.07/2014 concerning Confidentiality and Security of Consumer Data and/or Personal Information.
The government and the People's Representative Council of the Republic of Indonesia officially discussed the Personal Data Protection Draft Bill (RUU DPP) in early 2020. The PDP Draft Bill emphasizes three important points in data protection, namely data sovereignty, protection of personal data owners and the rights of personal data owners, as well as the obligations of personal data users. In accordance with the information provided by the Minister of Communication and Information Technology, Johny G. Plate, the PDP Law is expected to provide a sense of security for data owners in the midst of data breaches. He said the PDP Draft Bill was a necessity in the digital economy era with the use of various internet applications. This need is also increasingly evident with the rampant attacks (data leaks that have occurred on several digital platforms in Indonesia some time ago. To date, 136 out of 200 countries have PDP laws.
Back